DA-FormMaker 4.9 is pushed today. Read what's new.
Today DA-FormMaker 4.9 has been replaced, again we made improvements and corrected some bugs. We also changed the license model, more about this at the end of this article.
Templates and Wizard
Create a contact form, appointment requests or even a resertion with the new templates and wizard in a few seconds.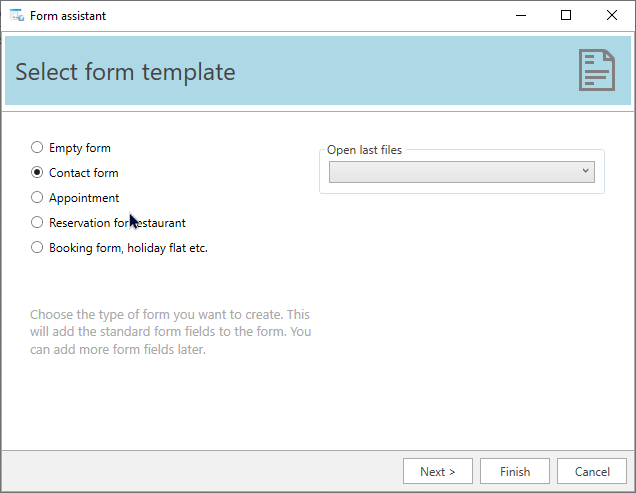 character display for multiline text field
A visible character boundary can be added to the multiline text field.

Calendar field multilingual
The calendar field is now multilingual. It will be created automatically in the language of the program.
Error corrections
In addition to new functions, bugs have also been fixed.
Form was sent twice in Edge
Program crash in time field if last day of month
Bootstrap – no display of button labels fixed.
---
License Model – Standard and Professional Edition
DA-FormMaker will be available in the future in two license variants, the Standard and the Professional Edition. All previous licenses will be converted to the standard license during an update.
As a general rule, both variants have the same range of functions. The standard version is aimed at all those who create forms for their own websites. Whether commercial or private.
The Professional version is for web designers, agencies and companies who create forms on behalf of customers and pass them on to their customers.
A detailed description and examples can be found in our FAQ.
Previous customers can use version 4.8 (download to archive) without this restriction.
Hint: If you want to update to the new Pro version, you can do so for the special price of 20 Euro. Simply contact our support and we will send you a voucher code for our online shop.
Customers who have purchased the software in the last 6 months can receive a free update to the Professional version from us. Please also use our contact form.