What is a CHM file?
If you discover a file on your computer with the file extension *.chm, some people wonder what it is all about. For many, especially program developers, the CHM file is an old acquaintance.

This file format is mainly used for help files and e-books. The three letters CHM stand for Compiled HTML Help. Further interpretations are Compressed HTML Help or Compiled Help Module(s). As the names already suggest, these are special help files in HTML format. The individual HTML files are specially compiled and "packaged" so that a typical help navigation is possible. Typically, this includes a navigation tree, equivalent to a table of contents, which can be used to quickly navigate to the respective help page. An integrated Search function makes it possible to find search terms and the Index indexes keywords. Compared to many individual HTML files, the CHM file has the advantage that it is only one file. It is therefore easier to manage and exchange.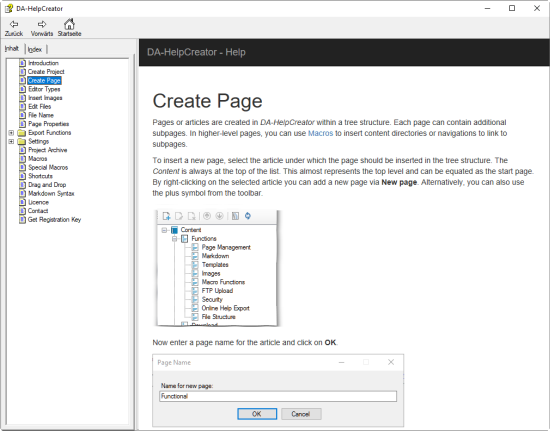 The file format itself comes from the Microsoft company and has become a quasi standard for help files since Windows 98 (so long). Previously there was the WinHelp format with the file extension *.hlp. The developers, who are a little bit older, might remember. This was based on the Rich Text Format (RTF).
In addition to the packed HTML files, the CHM file can also contain other typical files, such as images or JavaScript, which are required for the display of content.
Creating a CHM File
There are several ways to create a CHM file. One variant is to create all required HTML files separately with a corresponding HTML editor. Then you apply a CHM processor to the HTML files. This is a small program which merges the created HTML files to the CHM.
It is more comfortable with a program which integrates the creation of help contents, e-book contents or a documentation. Once you have finished your content, you simply click on a corresponding export button below to get the CHM file.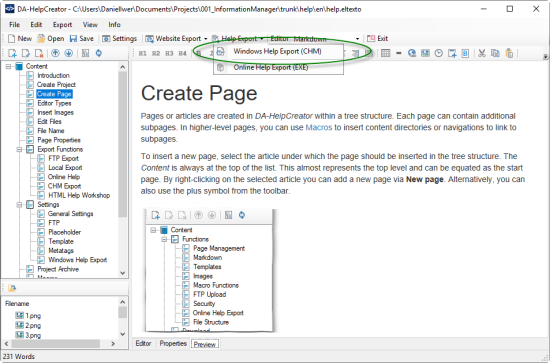 Open CHM file
Windows
Under Windows you can normally open CHM files without installing any additional software. This works in all Windows versions since Windows 98. Should it be necessary to use other software products, you can use a CHM viewer. Under Windows, for example, you can use a free tool called KchmViewer.
Open CHM under OSX
Under MacBook, it's a little more difficult because under OSX, the CHM file format doesn't open by default. But there are several applications or apps that allow you to open a CHM file on a Mac as well.
– CHM Viewer Free
– CHM Reader
– Chmox