What is help authoring?
Editorial help is often provided by technical staff in the form of documentation, instructions or manuals. These can be instructions for technical devices or software help. The result of the work of the respective specialist is then often a manual for an operating instruction, a help file (*.chm) for a software or a pdf file, which are published over suitable channels.
Using Help Authoring as a File or Manual
There are many conceivable cases in which help can be created. Here are a few examples taken from (working) life:
a company that wants to describe its work processes and/or QA management and make them accessible, perhaps even for an ISO9001 certification.
create and publish an instruction manual for a product
Provide help in a software program
an internal company documentation on manufacturing processes, production instructions, which is then managed in the internal company document management system
publications of structured content on the Internet, e.g. seminars or lecture series
the individual employee, who writes a small knowledge database of his own and perhaps wants to publish it on the company intranet
Characteristics of a good help
A good help creation, like the DA-HelpCreator, should have the following features, so it won't be a torturous torture for the reader, like an IKEA tutorial: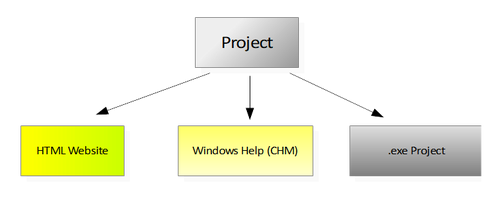 good structuring possibilities, for example via automatic tables of contents with different levels
short, concise, clear descriptions
very good pictures (one picture says more than a thousand words)
Supports many export formats, such as HTML, PDF or CHM
good handling, fast insertion of graphics, text passages
good linking and reference structure
To create all this manually with a text editor like Word is first of all quite tedious and secondly not the end of the road. Because the normal text editors lack practical possibilities for export. Or fast writing by using markup languages like Markdown. Or the possibility to decouple the design of a project from the content. Thus documents and document statuses can be administered also well, for example in a SVN.