DA-HelpCreator was released today in version 2.1. The development of the new version took some time. But the wait was worth it.
Until now, the input of content was done via the Markdown editor. This allows the fast input of contents by means of the simple Markdown syntax. But it is not always possible to display the content in Markdown. The update is free of charge for all customers who have already bought a previous version.
WYSIWYG HTML Editor
With the new visual editor, you'll see formatting and visualization as you create. The editor works similar to Word and other word processing programs.
With the new editor you can also use many new formatting options. Tables are no problem either. Graphics are displayed directly and the HTML code behind them can be displayed and edited manually at any time.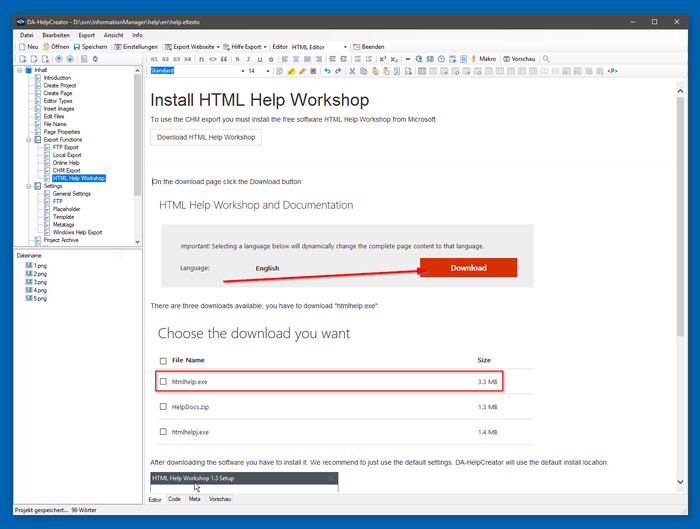 You also have the choice: HTML editor or the classic Markdown editor. You can define the editor for each article/page. A conversion from Markdown to HTML is also possible, so that existing content can be easily converted.
Parallel FTP Uploads
Especially for larger projects we noticed that the upload took a long time. FTP uploads can now be executed in parallel. Up to 8 files can be uploaded to the webspace at the same time. In addition, only the changed files are uploaded and synchronized.

Table editor in Markdown
A big shortcoming in the Markdown Editor was that no tables were possible. With the new table editor the problem is now solved. With this editor you can create and edit tables in Markdown syntax in a comfortable editor.

New Homepage
Another innovation, DA-HelpCreator now has its own homepage: www.HelpCreator.net. In the future, we will put content and resources for DA-HelpCreator online here. Stay tuned.