The new version of DA-OrderForm is now available for download. In addition to new functions and a new design, there are new licensing features. The update is free of charge for all existing customers.
New design, bug fixes
The software has been completely revised, so that it now comes in a new design, which is also suitable for high-resolution screens. Numerous bugs and small errors have been corrected.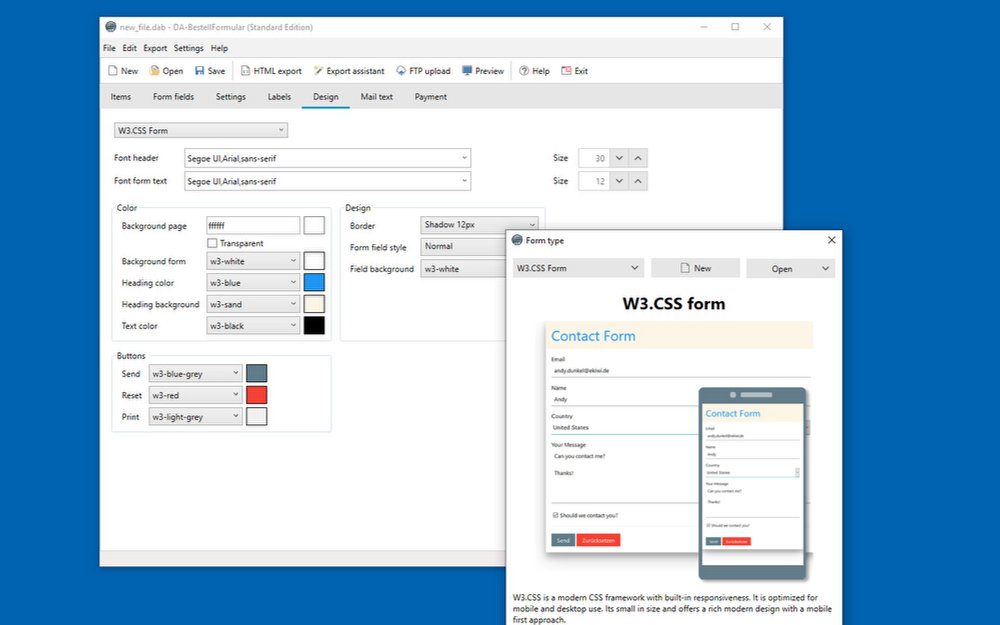 New licensing
The first new feature is the licensing. Until now all updates were free of charge, i.e. if you bought DA-OrderForme years ago, you could use all updates for free. We have decided to adjust the conditions. In the future there will be 2 years of free updates when buying the full version. All versions released during this time can be used free of charge. After the 2 years, a small update fee will be charged. This will be significantly cheaper than a new purchase and will extend the licence for 2 years. The previous version of the software can of course continue to be used without restriction and can be used indefinitely.
We have decided to take this step in order to finance the further development of the software in the long term. For the development of the software we also have to pay licence fees every year for software and development components.
Note: Old keys become invalid with the version. Already installed versions of DA-FormMaker are automatically converted to the new key and activated as full version. All updates for the next two years are free of charge.
If you want to reinstall the software and need a new key, please contact us via the contact form. You will then receive an up-to-date licence key free of charge.
Standard and Professional version
DA-BestellForm will in future be available in two licence versions, the Standard and the Professional Edition. All previous licences will be converted to the Standard licence when an update is made.
In general, both variants currently have the same range of functions. The standard version is aimed at all those who create forms for their own websites. No matter if commercial or private.
The professional version is for web designers, agencies and companies who create forms on behalf of customers and pass them on to their customers.
Previous customers can use version 4.8 (https://da-software.net/support/archiv/) without this restriction.
Note: If you would like to update to the new Pro version, you can do so at the special price of 20 euros. Simply contact our support and we will send you a voucher code for our online shop.
Customers who have bought the software in the last 6 months can get a free update to the professional version from us. Please also use our contact form for this purpose.