Currently, many small developers who use the services of MyCommerce, (formerly ShareIt), are receiving email notices of termination due to insufficient sales. This is what happened to us, because for some time we have been using MyCommerce to sell our software, as it offers some advantages.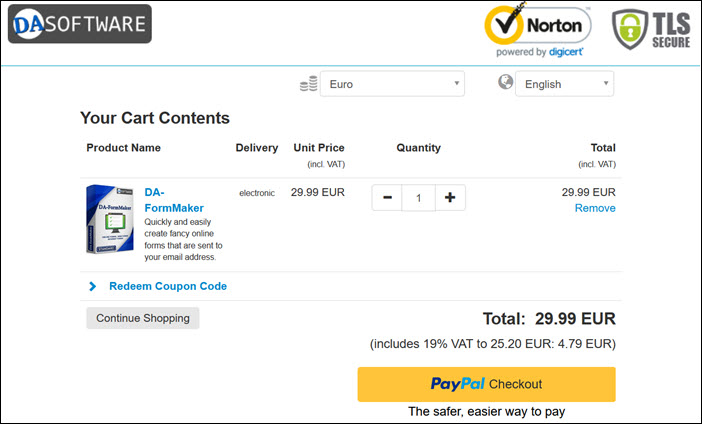 Service and advantages of MyCommerce
MyCommerce is a service provider for software developers, through which you can sell your finished software products. For this purpose MyCommerce provides a web shop interface. The software products (license keys, downloads, etc.) can then be purchased by the customers. This offers a number of advantages, especially for small businesses and self-employed people who have already invested a lot of time in the development of a software product.
The burden of setting up, administering, and maintaining your own web shop, including the difficulty of offering various payment methods in the online store, such as direct debit, PayPal, credit card, Giropay, instant bank transfer, etc., is eliminated. In addition, you have to integrate the automatic generation of a license in your own web shop in some form, because after all, the customer should receive his license key or download link to the full version immediately after making an immediate payment.
Furthermore, selling through your own online store results in many individual orders, which is reflected in the accounting effort. If you use MyCommerce, you will receive a monthly invoice instead.
In this case, you also do not have to worry about the problem of VAT, especially for orders from other European countries or third countries. With one's own online store, one may have to participate in the one-stop-shop procedure and always keep the tax rates finely up to date.
Thus, this service from MyCommerce was a good place to start, especially for smaller companies that wanted to avoid such a hassle.
Termination due to insufficient turnover
Unfortunately, MyCommerce (ShareIt) has decided to terminate these very businesses.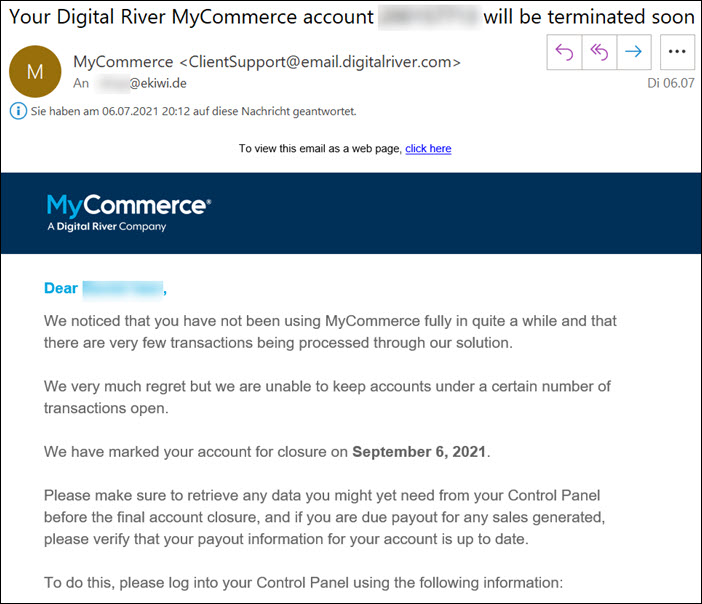 The termination is based on the reason that too little turnover is realized with the store, whereby the question naturally arises here as to where the turnover limits are and whether there is a contractual basis for this reason for termination.
When asked, MyCommerce support refers to management decisions, but the contractual basis for such a termination is not discussed. It is only mentioned that a minimum turnover of US$ 6,000 is required.
This can of course be the "end" for small developers, who may have done the software business as a sideline or for software products that serve only a small niche.
There is also the question of how to deal with new customers whose business may first have to be built up through longer-term marketing strategies. How much time will MyCommerce give them before the magic limit is reached?
It is also difficult to understand the reason for the termination, namely that the processing costs for payment services and also in general have increased and therefore stores with small sales are no longer worthwhile. MyCommerce could counter higher costs at payment service providers by increasing their own fees per product sold. MyCommerce's entire store system is digital and rolled out across all customers. So it shouldn't matter if there's one more or less customer in the database there. And that the small customers take up excessive processing capacity through support requests, I cannot confirm at least from my own experience.
Conclusion
It is therefore regrettable that small businesses, for which it is often not worth the effort of having their own online store, including all the associated financial and legal constraints, are excluded from MyCommerce here, and that the high-turnover companies are considered the better customers in this case. The general tendency for small businesses to gradually disappear on the Internet and be displaced by large companies is thus being given a considerable boost.